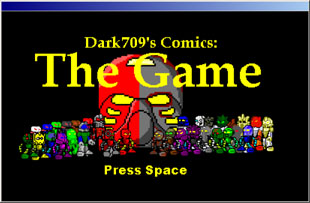 Dark709's Comics: The Game was created by Lepaka the Speedy, now known as Leppy on BZP. Dark709's Comics: The Game follows the story in the first movie.[1]
Leppy has revamped the game, and has nearly completed the game. Future game updates will be made by his "apprentice", Dark Kitten Sage, with versions such as 5.1, the next version, and 5.5, the final version.
Walkthroughs
Edit
I-GAME MANUAL BILLY MAYS By Dr. Bionicle
HOW TO GET PAST THE ANNOYING JUMP By Superkid11
COMPLETE GAME MANUAL By Onewa Master
IF THE GAME GETS TO SLOW By lavaside rahi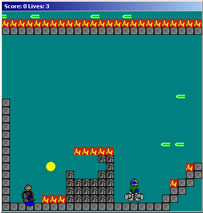 How come whenever I come into contact with Mr. Zimwadd, the game freezes?
You know in the beginning, there's that blue and red tower thing? That's a checkpoint. Go up to that and press enter. That saves your game. There are more of those throughout the game. Whenever you die, you go back to the last checkpoint you activated.
Where are the controls for the mini games?
On the main menu, click the link that says 'controls'.
How come on Fred VS. Turahk, Turahk never fights?
It's a 2-player game. You can find Turahk's controls on the main menu where it says 'Controls'.
What are bob's throwing cookies for?
Defense. Throw them at the Mr. Zimwadds.
What do I do here?
That jump is hard, but it is possible.
Where do you go after you beat the Zimwadds? The 8 Zimwadds at the beginning.
You know that huge room where the 4 Zimwadds? Go to that door at the far left and press enter.
Why does your screenshot of the Boboobian War mini game have lots of Boboobians? I played it, and there was just one boboobian.
Press the 1 key. That creates a new warrior.
I'm stuck on level 3 after the movie. I start in the air and fall and die.
That's because there are Zimwadds below you. Press shift to punch. You'll get 'em!
I'm stuck here. Whenever I jump down, I die, because there's a Zimmwadd there!
Keep pressing shift. You have to kill him in mid air.
I'm stuck here. What do I do now?
That's a trap, you can't do anything. You need to jump it. (It is possible.)
The Topic
Edit
Visit the topic here.
External Links
Edit
Screenshots Download Version 2
References
Edit
Ad blocker interference detected!
Wikia is a free-to-use site that makes money from advertising. We have a modified experience for viewers using ad blockers

Wikia is not accessible if you've made further modifications. Remove the custom ad blocker rule(s) and the page will load as expected.